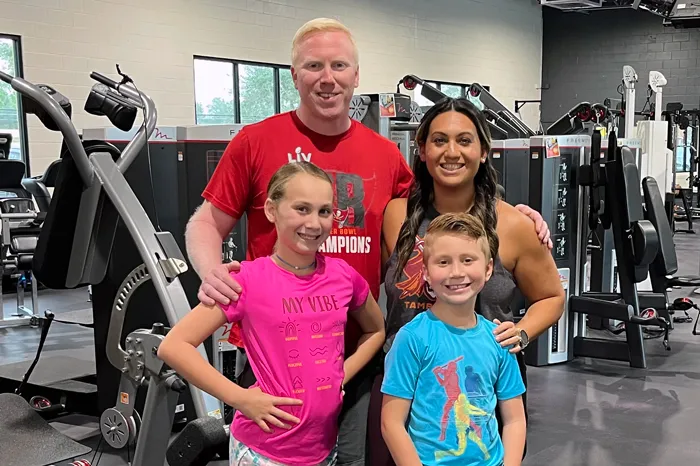 The Tichenor family poses for a photo at Northwest Y.

Did you know the YMCA is the world's largest not-for-profit organization? The Y's bright and vibrant logo can be recognized worldwide, and millions of individuals have a personal connection to the Y.

For many, the Y represents a positive childhood memory. For others, it's a facility they learned to swim at, and for the Tichenor family, the Y represents generational support and holistic wellness.  
Meet the Tichenor Family 
David, Raelani, Harper and Hudson Tichenor have been members of the Northwest Hillsborough Family YMCA for the last nine years – but their Y story doesn't begin there!

David's parents met at a Sarasota YMCA in 1982, and he and his wife Raelani have been members at various Ys for the last 20 years.

The Y is a crucial part of the Tichenor family dynamic, shares Raelani. "It's hard to imagine life without the Y. The programs  allow us to be working parents and have peace of mind knowing that our children are being cared for by people who love them just as much as we do. On the flip side, it provides a safe place for our children to learn, grow, and explore interests and activities!"
The Y Offers Programs for the Entire Family
Today the Tichenor family participates in just about every program the Northwest Y offers. Some of their favorites include:
Daily use of the fitness equipment

Family activities
"It's hard to think of a program we haven't participated in," shares Raelani. "We love the feeling of community that comes with being members of the Y! Our families are not local to the Tampa Bay Area – so the Northwest Y is the family we choose!"

As a working mom of two active young children, waking up at 4:30 every morning to work out is not easy for Raelani, but she finds motivation with her family's involvement and seeing her friends who have become her family. She enjoys hearing and learning from her Silver Sneakers friends, too!

"It warms my heart that they are equally as invested in my family and light up as they watch our children grow!"

In addition to Raelani's frequent exercise and Harper and Hudsons' involvement in the Y's youth programs, David works as a part-time wellness coach. He can often be found working on the wellness floor, providing facility and wellness orientations to new members, and helping keep the fitness floor clean and organized.

David and Raelani are passionately committed to holistic health – mind, body, and spirit. Spending quality time working out, participating in programs and building relationships with other members fills their hearts. The Tichenors say it's the best part of their wellness journey – and that they get to do it as a family.

Your family can join the Tichenors and register for a family membership today!
Published Tuesday, Jan. 17, 2023.