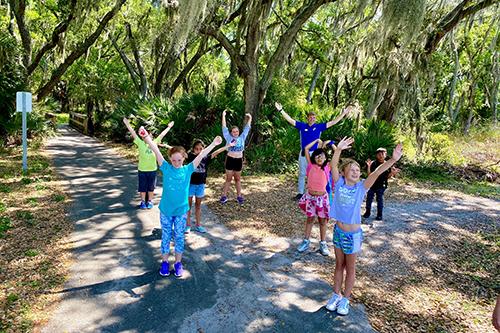 The Tampa YMCA is committed to making our summer camps just as safe as the emergency Youth Relief Care we're currently offering at 11 Y locations across Hillsborough and East Pasco counties, like this one at the Spurlino Y in Gibsonton.

With the Y's Youth Relief Care ending next week, we invite parents to keep their kids engaged socially, physically, and academically in Y Summer Camp. The Y is working directly with the Centers for Disease Control & Prevention (CDC) and the American Camp Association (ACA) to implement procedures that ensure our campers' continued safety when camp kicks off June 1.

"Spacing kids out to ensure a safer environment, lots and lots of cleaning, disinfecting hands, hand washing stations after every activity," says Tampa YMCA President & CEO Matt Mitchell, about extra safety measures in place, such as: 
Before children and staff are checked in, their temperatures are taken. For the safety and well-being of others in camp, those running a temperature of 100.4+ degrees cannot attend.
Staggered curb-side check-in.
Lower ratio camp groups spread throughout the whole facility. Campers remain in their same groups throughout the week.
Individual and spaced out activities to practice safe social distancing where possible when inside. Limited sharing of supplies.
Ample access to hand washing and hand sanitizer stations, especially at check-in, before meals and after restroom use.
Y staff intentionally teach and encourage good hand hygiene, respiratory etiquette and follow a strict sick child/staff policy.
Significant disinfecting of supplies and activity areas throughout the day.

Y Summer Camp is led by a team of kind, trustworthy individuals committed to creating a safe place for campers to practice social skills and character values. Our values-based camp curriculum will help campers develop self-reliance, a love for the outdoors, and attitudes and values that build character and leadership — all amidst the fun of STEM projects, nature education, arts and crafts, sports, swimming and, of course, campfire songs, skits and traditions. Camp may also relieve some household tensions.

"This is a stressful time for a lot of families. If we can take that portion of their family, their children — their most prized possession — and keep them safe so they can focus on everything else they need to focus on right now, I think that's a big relief for families," Matt says.

The Tampa Y offers ten weeks of camp at 16 locations across Hillsborough and Pasco counties. Camp runs from June 1 through Aug. 7 for ages 6 - 15. Register for summer camp today. As with all YMCA programs, financial assistance is available to those who qualify. Every kid deserves to go to camp!