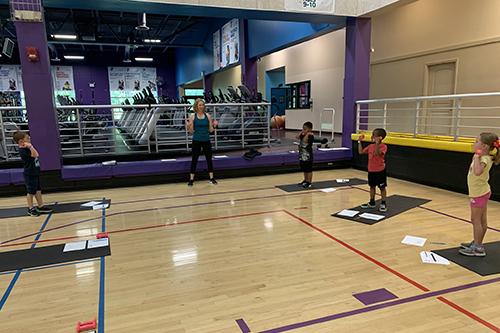 Children in youth relief care at the New Tampa Family YMCA get some exercise.

The Tampa YMCA is working hard to meet a critical need to help healthcare workers, emergency personnel and others essential employees who are playing important roles combating the coronavirus. We are providing youth relief care while our centers remain temporarily closed.

"I have to keep working," says mom Tiffany Larson, who described the care as a "huge help at such a scary time." Tiffany enrolled her daughter, who is in kindergarten, in the New Tampa Family YMCA's youth relief care. "At least I know my daughter is getting exercise and able to work on homework."

"The schools are not just a place for education. Kids also depend on the schools for meals and as a safe place to be while folks go to work. While school's out, there is a huge gap in the community to provide those services," says Tampa YMCA President & CEO Matt Mitchell. "We thought about how important it was that essential workers still are able to get to work because they are providing such important roles in our community and roles that we cannot go without. Doctors, nurses, lab technicians and folks who work at our grocery stores, they all need to get to work so that our loved ones can be treated when they get sick and there are places to go for food and nutrition. We figured this is a role that the YMCA can play by providing youth care for these individuals who need to go to work and have a safe place for their kids to go while schools are closed."

Thanks to the generosity of members choosing to donate their membership fees toward our charitable cause, in addition to a generous gift from Florida Blue, the Y is able to offer this program to families at a very low and affordable rate that equates to $10/day per child. Across Tampa Bay, we are positioned to provide relief care to 2,500 children at Ys within the Tampa Metropolitan Area YMCA, YMCA of the Suncoast and YMCA of Greater St. Petersburg associations. 

"We really appreciate all that (the Ys) do with our kids while we're away. It's one less thing to worry (about)," said New Tampa Y parent Niki Whitaker. Once in our care, kids are provided free breakfast and lunch in partnership with Hillsborough County Public Schools and Pasco County Schools. 

Y staff are also intentionally teaching and encouraging good hand hygiene, respiratory etiquette and following a strict sick child/staff policy. Spurlino Y parent Erika Jenkins appreciates these efforts in addition to child/staff ratios complying with social distancing recommendations. "The caring staff, the open environment is exactly what children need during this time and parents can feel their children will get the same kind of care as if they were with them," Erika says. 

If you or anyone you know is an essential worker in need of youth relief care, click here to register for $50/week.