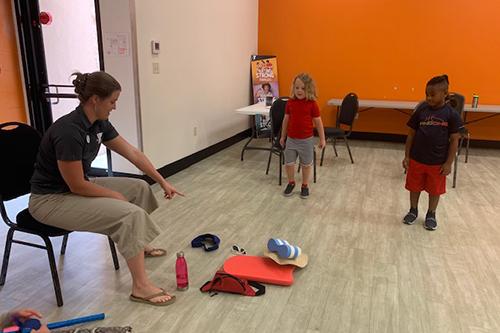 Tampa YMCA Director of Mobile Swim Erin Hotchkiss gives children in Youth Relief Care at the North Brandon Family YMCA water safety tips using props.

While pools across Hillsborough County temporarily closed during the Safer-At-Home Order, our mobile swim program continued indoors. During the Tampa YMCA's Relief Care for children of essential workers, we are providing water safety education through the Children's Board of Hillsborough County grant-funded Mobile Water Safety program.

Tampa YMCA Director of Mobile Swim Erin Hotchkiss has made it her mission to visit each of the Tampa Y's 11 centers weekly offering new water safety topics and activities. "My discussions are focused on water safety, and I am definitely trying to give them more of an educational component," she explains. "Our 30-minute lessons are giving participants vital skills that will resonate with them as we head toward a busy summer." 

Each week, participants discuss the water safety topic while maintaining social distancing in small groups. The topic is then reinforced with a game and hands-on learning activity.

For example, this week's lesson was about reach, throw, but don't go. The kids discussed the importance of saving someone safely from a distance without putting themselves in danger," says Erin. "They learned the terms 'buoyancy,' 'reaching assist' and 'throwing assist'. They reviewed items that can float with a fun game and then I follow up with a hands-on experience of the kids getting the opportunity to toss a real rescue buoy and reel in their 'survivor.'" 

Participants then wrap up their water safety lesson with a worksheet. This gives them the opportunity to reinforce the lesson and take the papers home to show what they learned that day. Each week, the water safety education program teaches an average of 200 participants.

Thanks to the Children's Board of Hillsborough County for generously funding an innovative program that saves lives - in and out of the water!