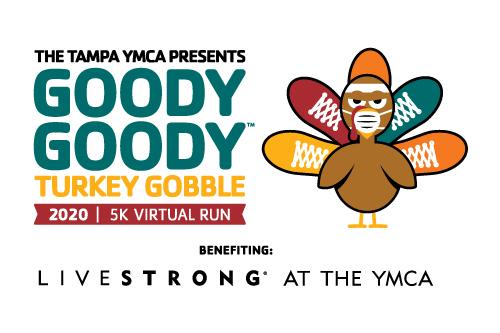 This year's Goody Goody™ Turkey Gobble is a great opportunity to get out with your loved ones and exercise for a good cause.

There's still time to sign up for the Tampa Y's 6th annual Thanksgiving holiday tradition - Goody Goody™ Turkey Gobble - to benefit the LIVESTRONG® at the YMCA program.

Dave Boyle, Executive Director of YMCA Camp Cristina, says while this year's race may be virtual, it's giving him and other runners a new reason to run. 

"At first, the idea of a virtual 5K seemed strange to me. Part of running events is the community feel of people doing the same thing. But then, I realized that community wasn't just there on race day. The community of people is right where it's always been, here at the Y," he says. "It's given my running a new purpose. It's made it easier to get up early to run or run when it's a little hotter than I would like. Now, I am no longer doing this to get in shape; I am doing this as part of something bigger. On Thanksgiving morning, I am going to pull on my Goody Goody™ Turkey Gobble shirt and run my personal 5K through FishHawk. I will make sure to wish any other runners I see a Happy Thanksgiving. When I get home, I will be thankful for my health, and happy in the knowledge that a 5K burns about two slices of pumpkin pie. Our community may feel a little different this year. That doesn't mean it's not there; it means we just have to look a little harder and when you find it, like I did, you will see it's stronger than ever."

LIVESTRONG® at the YMCA graduate Harland Greene, who survived prostate cancer, describes cancer as a journey and says the program at the New Tampa Family YMCA was instrumental in not only getting his strength back but meeting people he could relate to. 

"They became like a family. Not everybody has the same cancer, not everyone has the same story to tell but we all have something in common – the big C and you try to help each other and encourage each other at the same time and that made a big difference," he says. After Harland finished the program he learned of a friend dealing with cancer. "After speaking with my friend about the program at the YMCA, I convinced him to enter the Livestrong program and he called me up to thank me."

Gary Tilson of the South Tampa Family YMCA graduated from the program after suffering Stage 4 melanoma with metastasis to the brain. He was on the mend when he recently had a health setback but received good news when his latest MRI showed no new signs of cancer. 

"I basically lost all of what I accomplished and more. As a result, I am almost back to where I was two years ago when I started the Livestrong program," Gary says. "Now that the Y has reopened I'm going two days a week to physical therapy and two at the Y. I am confident now that I am back at the Y, I will kick it into high gear again, get back to where I was and continue to push on from there. My surgeon said if I want to improve, it's all on me. With the Y and the Livestrong program - I did it once, I'll do it again!" 

The Tampa Y would not be able to offer this program at no cost to the community without your support through fundraisers like this Thanksgiving tradition. A donation of $29 registers one participant and a family of four can register for $110. Participants will also receive some fun swag like a Special Edition 2020 race shirt and finisher medal. Register today for the virtual Goody Goody™ Turkey Gobble. Registration is open until the 28th at 11:59 p.m.

"You have the whole week of Thanksgiving to get 3.1 miles in - so you can run, jog, walk, or wobble it," says Dawn Kita, Tampa Y Healthy Living Director.