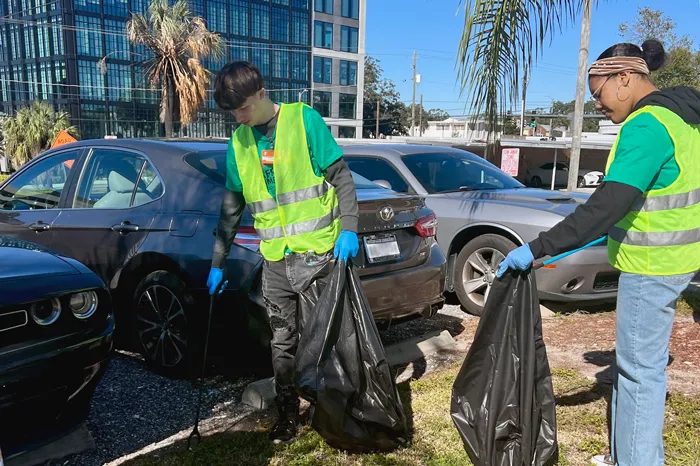 The Tampa Y African American Resource Network and Central City Teen Leaders led volunteers in a MLK Day of Service cleanup in Tampa Heights.
The YMCA Hosts Cleanup
The Tampa YMCA and our staff joined countless individuals across the county as we gathered for a day of service.

The Martin Luther King Jr. holiday on Jan. 16, 2023, marked the 28th anniversary of the day of service that celebrates Martin Luther King Jr. and his life and legacy.

The holiday is observed on the third Monday in January each year as "a day on, not a day off." MLK Day is the only federal holiday designated as a National Day of Service to encourage all Americans to volunteer to improve their communities.

This year, the Tampa YMCA encouraged staff to use the holiday as a call to action to get involved to make our communities better.
Strengthening the Tampa Community
The Central City Teen Leaders Club and our African American Resource Network invited YMCA staff to join them  in a clean-up project throughout the Tampa Heights neighborhood.

For teen leader Isabella Blizzard, this is her second year cleaning up the neighborhood. She enjoys the project because "You feel like you are doing something to make a better environment for those in the community."

Isabella says the Teen Leaders Club has helped her develop her passion for giving back. In fact, after high school graduation, Isabella's goal is to go into the medical field so she can continue to help and support those in the community who are affected by cancer.

This was the second year that Ebonè Mitchell, Associate Executive Director at the Central City YMCA, organized the clean-up event. She shares, "To be able to give back and make the area that we work, and where so many people live, look a little bit better... it makes my heart happy... especially on MLK Day."

The Y is honored to have service-driven staff and teens. You can join the Y in strengthening our community by volunteering at your local Y today!
 
Published Tuesday, Jan. 17, 2023