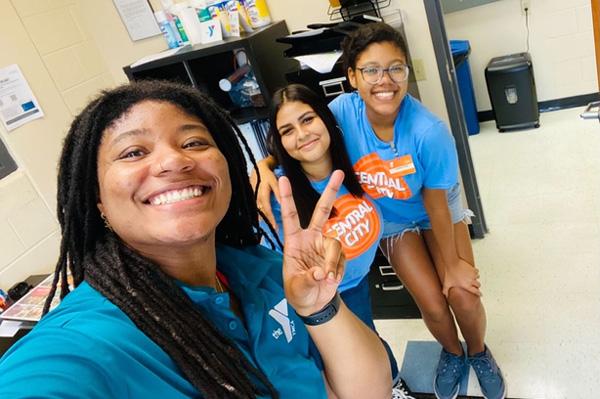 Eboné Mitchell takes a selfie with current members of the Y's Teen Leaders Club. 
 
Growing up, Eboné Mitchell always knew she was destined for a career that allowed her to give back to the community while helping teens prepare for a strong future. When she started her Y career, she knew she had found her calling leading the Y's Teen Leaders Club. 
 
The Tampa Metropolitan Area YMCA's Teen Leaders Club provides enrichment opportunities, promotes health and wellness and encourages teens to build strong relationships with staff and community members through volunteerism. One of the first teens Eboné met in her new role was Rashi Branche. 
 
Eboné got to know Rashi during his time in the club. After graduating from high school (and the Teen Leaders Club), he went off to college and realized that he, too, was meant to help teens the way Eboné had helped him. In 2015, Eboné hired Rashi as a Teen Coordinator, and when he graduated college in 2018, she hired him for his dream role, the Teen Director job! 
 
Since then, Rashi has had multiple opportunities to expand his leadership roles within the Y, serving at various centers and on national committees within the Y movement. 
"I'm fortunate that I was able to play a role in Rashi's development as his Teen Leaders' Club Advisor and one of his mentors. Programs like the Teen Leaders' Club are essential because they give teens and young adults the confidence they need to go out and change the world," shares Eboné. 
 
Today, Eboné Mitchell advises our Teen Leaders Club program for our Central City and Downtown YMCA locations. The Teen Leaders Club program is for students in grades 7-12 and requires teens to attend regular club meetings, volunteer and set and achieve personal fitness goals. Our teen leaders also participate in special activities and overnight events throughout the year to learn what it truly means to be a leader. 
 
"Teen leadership will always be a priority of mine no matter the role I have at the YMCA! I believe in their potential and truly think they are a generation destined for greatness," shared Eboné. 
Like many other Y staff, she strives to prepare our youth for a bright future. You too, can support, partner and volunteer with the Teen Leaders Club!