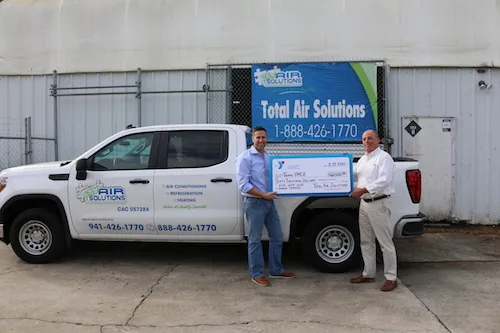 Total Air Solutions has generously donated $60,000 to help hundreds of kids, adults and families at the Y.
Now more than ever, we can see lasting personal and social change can only come about when we all work together to make a difference.  It's times like these when we truly appreciate our supportive relationship with community partners. Our generous partners and donors help us strengthen the community by empowering kids to succeed in school and in life, helping community members get healthier, developing leadership skills in teens and teaching kids how to swim. When community members, like you, advocate with and give to the Y, they help build a stronger, healthier and connected community. Your generosity has an immediate, meaningful and enduring impact right in our Tampa Bay community.

Case in point, our partnership with TOTAL AIR SOLUTIONS goes well beyond the full range of quality systems and services provided to Tampa Y facilities. For the past three years, Total Air has generously donated $60,000 to help hundreds of kids, adults and families struggling through financial hardships benefit from Y programs. "Total Air Solutions is proud to help thousands of kids, adults and families benefit from the programs and community support offered by the Tampa YMCA," says Co-owner Bill Albert. "We're creating added value to your membership with exclusive promotions that will help you save money and energy on your home comfort system!"

Donors, like Total Air Solutions, help make the Y a safe place where kids learn about water safety, teamwork and sportsmanship; seniors gain strength and joy in socializing; teens gain leadership skills and cancers survivors heal in a supportive environment. We thank all of supporters for standing with us as we respond to COVID-19 while remaining committed to our cause to strengthen community.