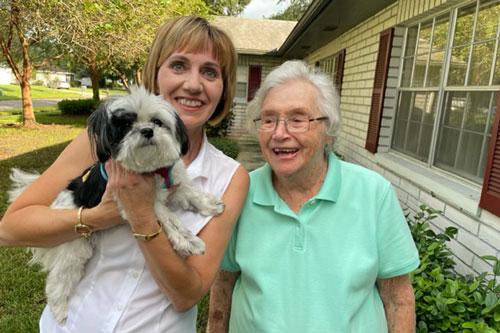 Janet Noah and her Havanese dog, Chloe, pay her "pen pal," Olga Finch, a visit.

During the Covid-19 shutdown, Janet Noah, a community member who serves as Community Relations Liaison at the Bridges, an Assisted Living community close to Campo, teamed up with the Campo Family YMCA's Silver Sneakers on a pen pal program with her residents.

Janet and her "pen pal" Olga Finch still keep in touch and have even seen each other outside of the pen and paper.

"I was very enthused by the possibility of making a perhaps lonely lady's life a little better. It was always a happy event when I received a note or email from Janet. She always lifts my spirits and we ALL needed that! And to make a new friend under the age of 70 was really special," says Olga, nearly 90. "It was great to meet her in person and then later, Dan (Janet's husband) and adorable Chloe -- the only dog I ever met who refused a dog biscuit! Art (Olga's husband) and I offered to babysit Chloe and mentioned that if she ever went missing, they would know where to look first. And Janet brought treats on her visits to our doorstep, too."

Through letters and e-mails the two women learned a lot about one another.

"I learned that Olga was an older than average college student receiving her Masters in Music at 53-years-young! She went on to teach piano. She and her husband Art have been married for 60 years! They have two children and three grandchildren," Janet says. "Olga is an artist and has blessed me with several lovely paintings. I know Olga and Art are dog lovers and had dogs for many years. Olga is crazy about Chloe. Olga is also very funny…Erma Bombeck-witty (the late American humorist whom achieved great popularity for her syndicated newspaper humor column describing suburban home life and bestseller book author)."

Janet and Olga only live a few miles from each other.

"My husband, Chloe and I stopped by their home on December 23, 2020 to meet," Janet says. "To be extra cautious we visited outdoors. We have stopped on a number of occasions to visit. Our plan is to meet for dinner as soon as the weather cools off so we can dine outdoors. It has been a joy to know Olga and Art. I cannot wait until we can go on our double-date for dinner!"

Olga is looking forward to it too.

"We are still hoping to get together out in the big world instead of on a doorstep, but the virus keeps interfering," she says.