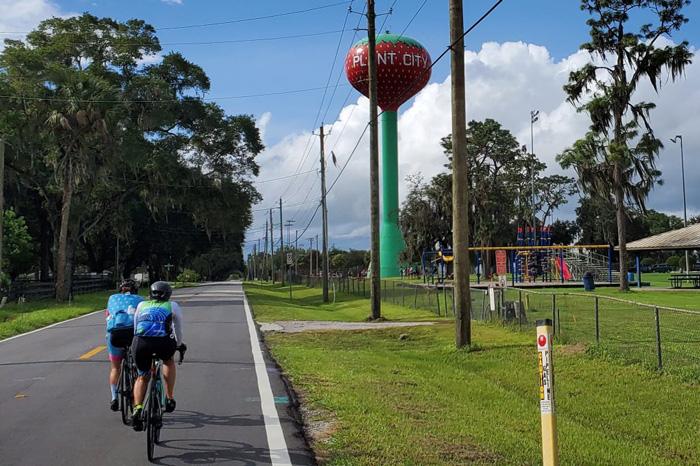 More than 100 cyclists rode the scenic Plant City countryside to benefit LIVESTRONG® at the YMCA in the 8th annual Dean's ride, which raises money for cancer survivors and their families.
The show must ride on!
On a beautiful Saturday morning on September 12th, more than 100 cyclists rode the scenic Plant City countryside to benefit LIVESTRONG® at the YMCA for cancer survivors and their families.

The 8th annual event raised money for Dean's Ride, hosted by the Plant City Family YMCA. Initially planned for March, the fundraiser had to be postponed due to the coronavirus pandemic. Founded in 2013, Dean's Ride was created in memory of Dean Snyder, a member of the Plant City Family YMCA, who passed away in August of 2013 from esophageal cancer.

This annual fundraising event consisted of four cycling distances: 62-Mile Metric Century; 46-Mile Half-Century; 39-Mile Half-Metric Century; and 19-Mile Quarter-Metric Century options. Around $8,000 was raised thanks to the 165 registered cyclists who signed up for the ride. 

"It was amazing to see such a great turnout, with all that we have faced this year and continue to face with the pandemic. It was nice to have a day that felt normal and to honor the legacy of Dean Snyder," says Plant City Y Executive Director Paul Conley. "I am grateful to all the volunteers, sponsors and riders who made Dean's Ride successful and will allow the Plant City YMCA the ability to continue helping those battling through cancer."
"I look forward to it every year so I was happy to see it not skip a year because I know that my dad wouldn't let it skip a year," says Dean's son, Brandon Snyder. "It was cool to see the Plant City YMCA Board of Directors, Bruce Curtis, Chair of the Event's Board, and the YMCA (staff and volunteers) work to get this done because it is important to me, my family and, of course, the community. Everybody there was all pumped up. I overheard people thanking Paul for having this event go on because people were searching for some normalcy and for that day, it seemed we were able to find that." 

Brandon says the ride is even more meaningful for him because it gives him time with his dad. "I'm a mountain biker and I ride my bike only one time a year and that's the only time I do it. I typically do it by myself. And that's my ride for my dad. Because I'm always at the end talking to people so everybody goes out before me and I go and do it by myself," Brandon says. "He did it the first year. He went and had chemo and went out the next day and did the 62-mile ride by himself. And so, it's kind of my way of keeping that going." 

Bruce says Dean's 9th annual ride has many exciting changes planned. The ride is slated for March 2021.