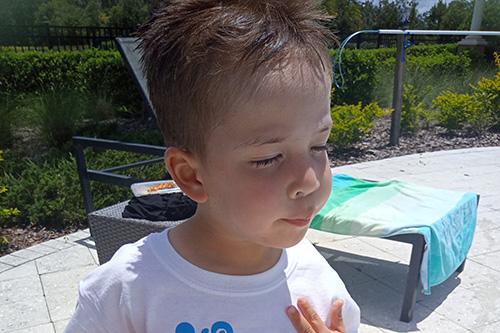 The Children's Board Mobile Swim Team was in full force this summer, restructuring its community-based group lessons while continuing to bring the innovative water safety program to local neighborhoods at no cost.

This water safety program is generously funded by the Children's Board of Hillsborough County. The Mobile Water Safety Team "Be Water Smart from the Start" initiative brings water safety and swim lessons to apartment communities and neighborhood HOA pools for children, ages 3-14 years located within Hillsborough County.

"Our biggest feat this past year was combating COVID-19 and still being able to expand our services. We served new communities and they each welcomed us warmly. We were able to locate new complexes and find areas in the county who needed our services. As we believe every child deserves to learn how to swim, we just want to find the areas of town in which parents and caregivers do not always have access to swim lessons. We use our mobile swim team to bring lessons to them as a service and a reassurance to the parents that their children are safe in and around a body of water," says Director of Mobile Swim, Erin Gramm. "We faced new hardships with COVID, just as other organizations did, but this did not slow us down." 

During the summer, mobile swim lessons are offered in 45-minute classes during either the morning or afternoon, Monday-Friday, for one week. When school is in session, lessons are offered three times a week for two weeks in the evening. 

Hillsborough County properties interested in offering the program may contact mobileswim@tampaymca.org for more information and next steps. Families interested in bringing the program to their property, must first contact their property management team and share their interest. The property manager can then reach out to the program contact listed above for more information. The Y hopes to continue adding new properties into our new year as well as additional class times in the spring and fall. 

Erin says a new community, DG Farms in Wimauma, personally contacted the Y. 

"They reached out to us and spread our message within their own community. We had full registrations before day one. Parents were supportive and loved to see our instructors and lifeguards at their community pools," she says. 

Erin had parents send her personal emails of thanks at the end of the week. As stated by one participant: "Erin, Thank you so much for the swimming lessons. Pablo gained a lot of confidence and, just like you, he wanted to be in the water."

The Mobile Water Safety Team also provides a session of five private swim lessons to children with special needs, ages 3-14, at no cost. This program is offered at any Tampa YMCA or Brandon Sports and Aquatic Center (BSAC) location nearest you. Nationally certified swim instructors will provide 30-minute private swim lessons tailored to each individual child to encourage him/her to be safer around water. Prior to the start of the first lesson, parents/caregivers should plan to complete a "Swim Lesson Readiness" phone call to ensure you and your child are fully informed of what this program offers. 

Families interested in this private swim lesson opportunity should contact mobileswim@tampaymca.org.