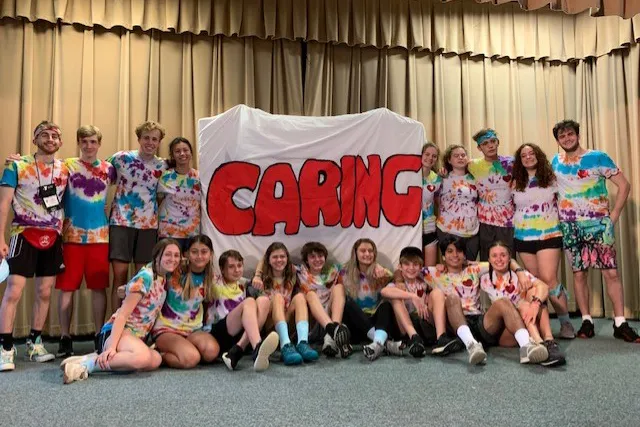 The South Tampa Teen Leaders Club gathers for a photo at one of their monthly meetings.
January is National Mentoring Month, and at the Y, we believe in identifying community needs and working toward solutions that create meaningful and lasting change.

We accomplish this change by focusing on our three areas of impact: youth development, healthy living and social responsibility. One of the Y's crucial youth development programs is the Teen Leaders Club.

The Leaders Club is a program designed for teens in grades 7-12 who want to be strong mentally, physically and spiritually.

Leaders Club is driven and led by the teens with oversight from the Club Advisor at each YMCA. Our Advisors are YMCA staff who uphold our core values of Caring, Honesty, Respect and Responsibility in every meeting and initiative!
Mentors Making a Difference
Anne Jeffery, Sr. Program Director and Teen Leader Advisor at the South Tampa YMCA, shares, "I love watching my middle school kids blossom into confident teens and take on leadership roles in sports, school and our Teen Leaders Club."

Anne has been the South Tampa Teen Leaders Club Advisor for the last five years and is highly invested in facilitating an environment where 65+ Teen Leaders can learn, grow and thrive. To Anne, being a mentor means being there for her teens. She focuses her programs on instilling positive behaviors and values in her teens while giving them a safe space to explore their unique talents, interests and potential.

Cooper Zysk, a sophomore and an Officer in the South Tampa Teen Leaders Club, shares, "The Leaders club has brought me so much but most importantly emphasizing what a leader really is. I was raised to be a leader like most kids are, but I never took it to [this] level."

Cooper has been a member of the Teen Leaders club for the last four years and is proud to have a mentor like Anne.

"Anne is really the best advisor I could ask for. She is the definition of leading by example. Anne goes through so much adversity and challenges yet is always in a good mood and willing to help."

Cooper looks up to Anne and has learned "...if I give up and be negative, it can ruin my peers' day and not help us [complete] a task at hand. It's also amazing that Anne is always one step ahead and she always has time to respond and help [those] around her."

Having a mentor like Anne and being surrounded by other strong teens has allowed Cooper to hone his skills and find his personal drive to become a leader and mentor to others.

"I've changed a lot thanks to this club. Part of that change came from the leaders in front of me. So I try to fill those shoes and even go above and beyond to lead the ones around me that need it now more than ever."

Your teen can learn more, join one of our Teen Leaders programs, and become a leader of tomorrow at any Tampa YMCA family center and YMCA Camp Cristina.
Published Tuesday, Jan. 17, 2023.