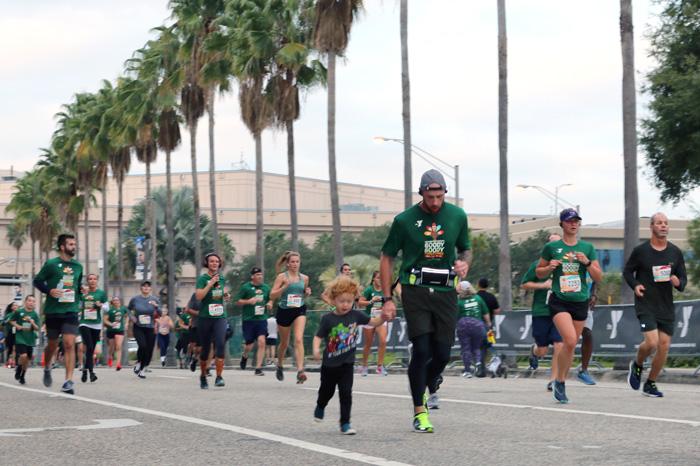 Last year, we had more than 4,000 runners, walkers and dogs, participate in the race in downtown Tampa, raising a record-breaking $80,000 to help cancer survivors.

You can cross the Tampa Y's 6th annual Thanksgiving holiday tradition Goody Goody™ Turkey Gobble virtually this year! 

The Tampa Bay community is invited to run/walk a 5K anytime during the week of November 22nd through November 28th. You can choose a route in your own neighborhood, run at your local YMCA, discover a new trail or run while you're out of town visiting relatives. When you join and log your total time, you can receive fun swag like a 2020 race t-shirt and Special Edition Finisher Medal. You have the full week to complete the 3.1 miles but only submit your total time.

"It won't be the same start and finish line, but families can still go outside and run and all be together. The virtual event concept puts more emphasis on the cause and gives runners a greater sense of purpose," says Tampa YMCA President/CEO Matt Mitchell. "It's the perfect time to be thankful for good health and spend time with our loved ones."

The annual event has been a source of fundraising for local cancer survivors and their families for the past six years, raising more than $296,000 for LIVESTRONG® at the YMCA. The FREE 12-week Y program offers people affected by cancer a safe, supportive environment to participate in physical and social activities focused on strengthening the whole person. 

"The process of being treated for cancer with chemo, radiation and surgery is one of the loneliest times a person can experience. While you do receive an outpouring of support, not many people truly understand the pain you go through physically and mentally during that time. With COVID-19 going on, I can only imagine how much more secluded those going through it must feel," says cancer survivor Chris Brewer. "The LIVESTRONG program is incredible and allows survivors to interact with each other. Not only can you share your experiences to people who actually get it but you're also now a survivor who gets to live on and fight another day. LIVESTRONG gives you the strength to then go out in the world and help others want to fight during this darkest time of their life. I'll forever be grateful to the LIVESTRONG program at the South Tampa YMCA."

The Tampa Y would not be able to offer this program at no cost to the community without your support through fundraisers like this Thanksgiving tradition. A donation of $29 registers one participant and a family of four can register for $110. Learn more and register today for this year's virtual Goody Goody™ Turkey Gobble.