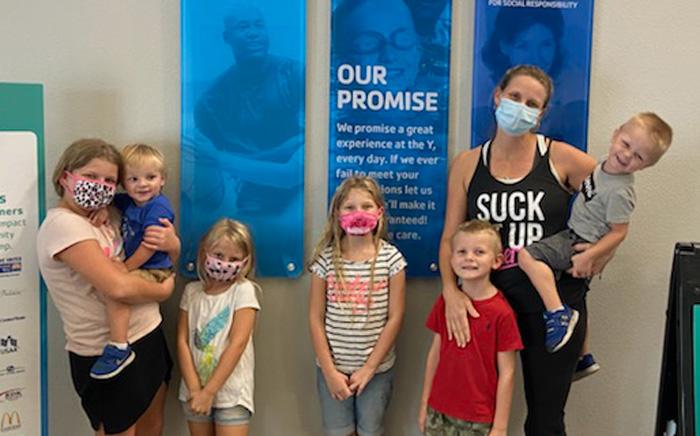 Crystal Bush and her six children; (from L to R) Brooklyn, 10, Brice, 1, Bristol, 5, Bridget, 7, Brody, 4, and Brock, 2, love the Bob Sierra Y.

"For us, there's so much more hidden value inside the YMCA that people don't recognize," says mother of six and YMCA member of nearly a decade, Crystal Bush. "There are so many things that make the Y important to us."

Because she homeschools her children; Brooklyn, 10, Bridget, 7, Bristol, 5, Brody, 4, Brock, 2 and Brice, 1, Crystal comes to the North Tampa Bob Sierra Family YMCA up to five times a week. "It's nice for me to have a break and put at least five of the kids in the Stay and Play," says Crystal, whose eldest daughter sometimes joins her in group exercise classes. "It's like family, it's like home here." 

Her daughter, Brooklyn, describes feeling really happy when the Y reopened and she started seeing some of her old homeschool friends. "We get a little bit of free time and when the free time is over, we'll start stretching and then we'll get split up into groups and each leader will take us. One day we even went to the pool and swam," Brooklyn says. "I've done the climbing tower. We've done arts and crafts, gaga ball, nature walks – it's a lot of fun."

Crystal says she didn't worry about returning with her six children once the Y reopened. 

"First of all, there is a risk every time we step outside. You have to choose what risk you're willing to assume. I feel safer at the YMCA than I do going to the grocery store," she says. "Just because I see what the YMCA has been doing, the extra steps to ensure everybody's health and safety here. I see the child watch workers constantly cleaning the toys. I see (the Y) trainers on the floor constantly wiping things down. The extra sanitization stations for your hands have been great. There's nowhere else I go that I see the level of cleanliness that takes place than the YMCA."

There are also other perks that come along with membership, like Parents' Night Out, which Crystal and her husband, Mike, of 15 years, take advantage of. "We put the kids in here and we did a date night and help foster the love in our marriage and that's important for our kids to see. It's important for them to see that physical activity is important to us and our marriage is important to us," she says. 

The couple were Y members even before they had children. "We made a decision a long time ago that the Y is not a want it is a need," says Crystal. "It's just always been a special place in our hearts. We appreciate the Judeo-Christian principles that the YMCA is founded upon and the charitable things that they do inside the community makes the YMCA an organization that we want to support." 

The Tampa YMCA is committed to providing the cleanest wellness centers for you to reenergize your fitness routines and a safe environment for kids to reengage in activities like sports and swim lessons. The Y's friendly, welcoming team, is ready to help you reconnect with friends. Check out the benefits of being a Tampa Y member.