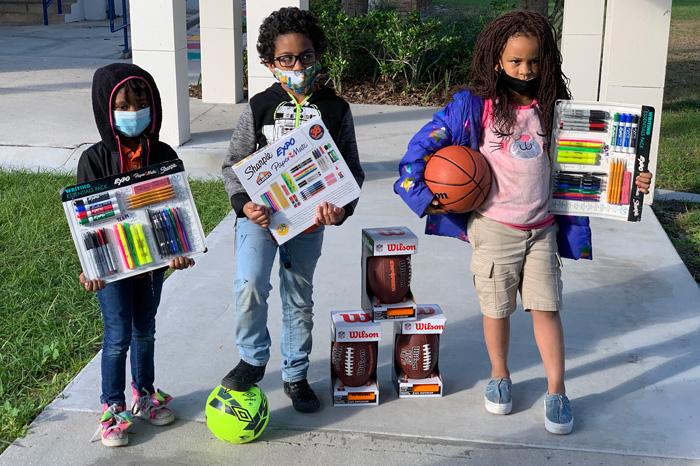 Donors brightened the holidays of Sulphur Springs YMCA afterschoolers and other kids across Tampa Bay though a Y collaboration with the NFL and Super Bowl LV Host Committee.

These are exciting times for Tampa Bay! In just 16 days, we will host Super Bowl LV and the YMCA is helping strengthen the community leading up to the big event. 

The Tampa YMCA, YMCA of the Suncoast and other community partners teamed up with the NFL, Tampa Bay Super Bowl LV Host Committee and the Tampa Bay Buccaneers for a Super Bowl project that puts books, sports equipment, school supplies and games in the hands of local children. The "Super Kids-Super Sharing" project brought in donations from 18 Ys across Hillsborough, Pinellas, Pasco, Hernando and Citrus counties. 

"These are materials that we're giving kids but when you give a young person a football or a basketball or a book to read, you're really giving them a gift of engagement and hope and an opportunity to connect with a friend down the block," says Tampa YMCA President & CEO Matt Mitchell. "A lot of kids go home and they may have books to read when they're out of school. A lot of kids go home where they don't have any of that stuff. They don't have a way to engage in anything that's academic and so when you give gifts like this, "it really gives a kid a chance to engage in something that they might not otherwise have the opportunity to do."

Joining the YMCAs of Tampa Bay in this effort were Hillsborough Education Foundation, Hillsborough County Parks and Recreation, City of Tampa Parks and Recreation, Keep Tampa Bay Beautiful and six Diocese of St. Petersburg schools. Together, we collected and distributed nearly 4,500 items to local kids. 

Here at the Y, we distributed the donated items to students in one of our most impactful programs - the Sulphur Springs YMCA located within Sulphur Springs K-8 Community School. We also gifted the donations during our annual holiday outreach events at several Title I schools in the Tampa Bay area. 

"On Fridays we do Club Friday and one of our clubs is World Wide Sports so having additional equipment for the kids to play with is really beneficial, especially with COVID, to spread them out into smaller groups so they can play and practice and just needing that additional outside time because they spend so much time in their classroom trying to distance from others," says Meagan Smithyman, Sulphur Springs K-8 Community Partnership School Community School Director/Associate Executive Director. "So, when it comes to their Y time we want to get them out exercising and having the additional equipment makes it that much more fun for them."

The YMCAs of Tampa Bay are honored to be a leading partner in this Super Bowl initiative benefiting children across Tampa Bay. Thanks to our members, volunteers and staff who embrace the act of giving back to our neighbors in need. It's what makes belonging to a cause like the Y so special!