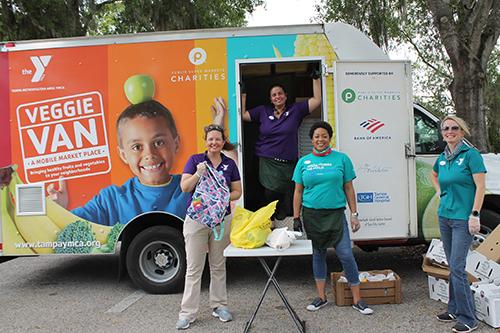 L to R: Sarah Hays, Executive Director of Before and After School Enrichment, Elizabeth Roman, Mobile Food Market Director, Lauren Reyes, VP of Operations, and Candace Culver, VP of Community Partnerships, work together to hand out backpacks, school supplies, and healthy food to the Wimauma community on April 9.

To help Hillsborough County students with their school work at home, the Tampa YMCA distributed more than 100 free bookbags stuffed with school supplies at two Tampa Y Veggie Van stops in Wimauma last month.

"We wanted to assist with the distance learning that is currently taking place in homes. In addition to the notebook paper, the pencils and crayons, we also passed out healthy food thanks to our YMCA Veggie Van," says Tampa YMCA Executive Director of Before and After School Enrichment Sarah Hays.

Closed schools limit student access to healthy meals and the tools they need to succeed. That's why the Y encouraged parents to take advantage of one of two stops in Wimauma.

"Everyone was just overwhelmed with gratitude and just to see the smiling faces of the kids as they were getting their school supplies was pretty amazing," Hays says. "The need is great. Whether it's food or supplies, the Y wants to continue to be there for our families during this crisis. We thank our generous YMCA donors who continue to support us."

Thanks to the generous support of Feeding Tampa Bay, Children's Board of Hillsborough County and others, the Veggie Van has been able to triple its food distribution during this pandemic. For more information on schedules and stops, contact Lauren.Reyes@tampaymca.org or call 813.867.5440.