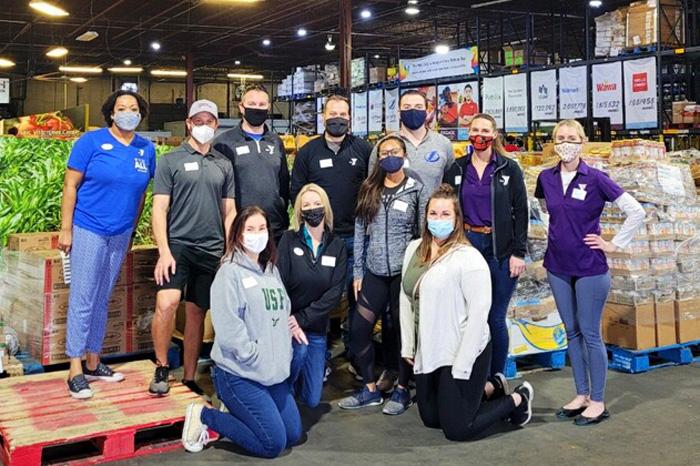 A group of staffers from Ys across Tampa Bay came together to volunteer for Feeding Tampa Bay, one of many MLK Day of Service projects the Tampa Y participated in, as a way to give back for Martin Luther King Jr. Day.  

"Life's most persistent and urgent question is, 'What are you doing for others?" said Martin Luther King, Jr., who was a Y kid before becoming a civil rights activist and Nobel Peace prize winner.

The Martin Luther King Jr. holiday on Jan. 18, 2021, marked the 26th anniversary of the day of service that celebrates the civil rights leader's life and legacy. 

Observed each year on the third Monday in January as "a day on, not a day off," MLK Day is the only federal holiday designated as a national day of service to encourage all Americans to volunteer to improve their communities.

This year, the Tampa YMCA encouraged staff to use the holiday weekend as a call to action to get involved to make our communities better. 

"It's been really great to see our Y staff out and working together on something that's not necessarily Y-related and we really want to make sure we're being good community partners and neighbors and engaging our staff in ways that are meaningful to the community," says Tampa Y VP of Operations Lauren Reyes, who spearheaded and also took part in the volunteer days. 

Groups participated in the following service projects: Feeding Tampa Bay by sorting, weighing and checking expiration dates of perishable and non-perishable food; Metropolitan Ministries by sorting donations at one of their thrift stores and outdoor community clean-ups and renovations, beautifying YMCA Camp Cristina and the areas of Tampa Heights and Sulphur Springs.

"When I was looking at the locations we were going to volunteer with, I felt it was important for them to be community partners who have assisted us in the past, so we could support them in what they're trying to do but also learn more about how they operate and how they impact the community," Lauren says. "It puts us in a better position to educate ourselves and our community members about the different organizations that can support them."

"It was a rewarding experience for all of us to come together to do something good for the community in honor of Martin Luther King Day," says Dawn Kita, Healthy Living Director, who was part of the volunteer group at Feeding Tampa Bay. 
 
"I enjoyed getting out of our day to day activities to expand our reach and contribute to the community in a different way. It was refreshing to be able to work alongside other Tampa Y teammates that work at other centers that we don't get to see very often. We were able to collaborate as a team and get to know one another deeper on a personal level," shares Amber Lee, District Membership & Wellness Director.   
 
"It was not only rewarding to help a great organization, like Feeding Tampa Bay, battle food insecurity in the community, but it restored my faith in humanity learning about and seeing the impact that individuals and grocery stores are making from their donations," says Sher Carvajal, Wellness Administrator.

Thank you to our community partners who do this each and every day and to our staff who volunteered their time. Learn more about ways to volunteer at your local Y.