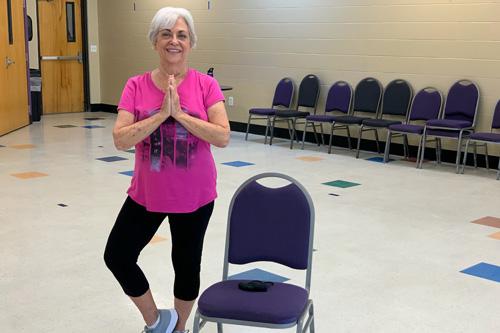 Pat Waldo's doctor insisted she go to the Y to help grieve the loss of her husband who passed away shortly after their 50th wedding anniversary.

It came as a shock when Pat Waldo's husband, Ron, died 10 years ago just 18 days after their 50th wedding anniversary. 

"His mother had been married seven times, his brother five times and his dad was married twice but he said, 'When I get married I'm in it for the long haul.' So, it feels so good we got to celebrate our 50th. It made me happy," Pat recalls.

After Ron passed away, Pat felt awful and spent the first year going from one specialist to another. 

"I didn't know what I was supposed to do. I wandered around the house in a daze. I had a hard time sleeping. Some days I was hungry and some days I wasn't. I felt like I couldn't breathe. I could breathe but I wasn't getting a deep breath. I didn't feel I was getting all the oxygen I should," she says.

Finally, her doctor told her she needed to join the Y.

"She said, 'it's just grief,'" Pat says. "And she said you need to start exercising and getting out. Just sitting at home is not good for you. She said with your insurance you'd have SilverSneakers®. But with the Y, I pictured the machines, lifting weights, riding the bike, climbing the stairs. And I thought, I'm gonna go but to prove her wrong."

So, Pat reluctantly joined the Campo Family YMCA.  

"Everyone there was so friendly and helpful. I enjoyed exercising and was resting better. Then I tried the senior classes and fell in love. I made new friends and felt better every week. And then there was a group of ladies once a month we'd go out to lunch," she says.

It was quite a while before Pat had to go back to the doctor and tell her she was right and thanked her. 

"When I went back for a check-up, I said 'OK, I went to the Y.'" She said 'you look better, you sound better, she says you have more of a bounce in your step' and I said 'I thought you were crazy and I went to the Y to prove you wrong but I love it,'" she says. 

Pat celebrated her 80th birthday in COVID-19 lockdown. Her family made her feel special by asking people to send her cards and rented pink flamingoes to fill her lawn. "It was so much fun. Then, all of a sudden I hear honking and they had a drive-by parade. That was better than a party," Pat laughs.

Pat stayed in touch by signing up for Facebook to keep in touch with her Y and church friends. She says when she returned to the Y, it was almost like she never left.

"It just feels really good to be back, so good. I was beginning to feel my age. I was stiff and sore. I could tell the difference. I really could. I already feel better. So, I figured staying home and staying isolated, it isn't good for you. You just need people. I could tell when I got up in the morning. I was like, was that my 80th or 90th birthday?" she jokes. "And I figured if people social distanced and wear a mask, you can't live your life afraid." 

The Y has missed all our members, like Pat! It might look and feel a little different due to COVID -19 precautions, but, at the Y, you'll always be able to connect with people, improve your health and wellness and help strengthen our community. As we welcome back our members at their own pace, we continue to offer free virtual fitness classes to help you stay active, healthy and connected in your own home. Check out our Virtual YMCA!