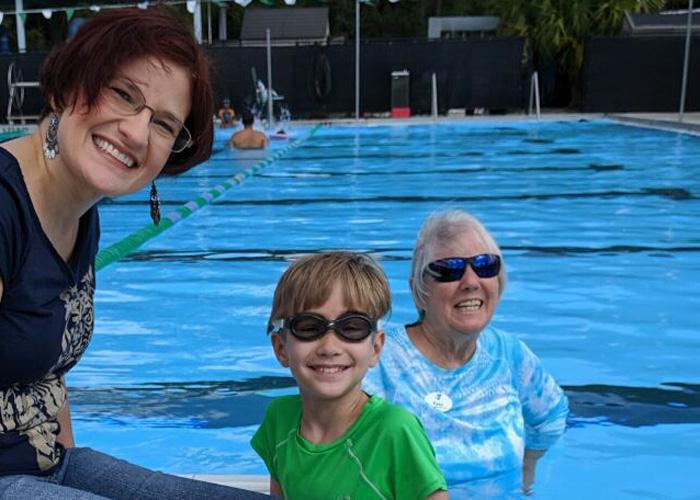 Valerie Kalfrin and her 9-year-old son, Liam, learned to swim at the New Tampa Y. 

Valerie Kalfrin says people are often quick to offer critiques and complaints, but they seldom pay compliments.

So, she wrote a letter to the New Tampa Family YMCA about her experience, with their "amazing, wonderful swim teacher." 

"Our 9-year-old son, Liam, has spina bifida and walks with the help of orthotics and forearm crutches, as well as uses a wheelchair. Before trying the Y, we had enrolled him in swimming lessons with a school near us, which didn't go well. The instructor dunked him underwater during the first or second class, and he was terrified to return," she writes.

Valerie says she met New Tampa Y Adaptive Coordinator Kass Pilczuk at a weekend resource fair for families with special needs.

"Needless to say, Liam was a bit apprehensive meeting Ms. Kass at the pool last year, but she soon won him over with her gentle persistence and patience. He really trusts her. By the end of last summer, he had dunked his head underwater all by himself and was thrilled to show off! This year, he progressed even more, to the point that by summer's end, he let go of the pool wall and reached out with long arms in the water," she says.

Valerie, herself, never learned to swim. She had tried lessons before but they "didn't stick" and Kass encouraged her to get in the pool. "Just hanging in there through the initial panic, I was able this summer to dunk my head underwater for the first time in my life. Pretty remarkable. And my son's proud of me too," Valerie shares. 

Valerie says she can't thank Kass enough for all she's done to help their son love the water. "He's learned so much and loves being a little fish," she says. "Ms. Kass certainly deserves compliments. She's a gift, and we feel so lucky to have found her."

The Y offers swim lessons for all ages, including adults. In addition, Y adaptive programs help children, teens and adults of all abilities benefit from physical activity and group interaction. The New Tampa Y offers a full-range of adaptive programming including art, basketball and aquatics. For more information, contact 813.866.9622 or kpilczuk@tampaymca.org.