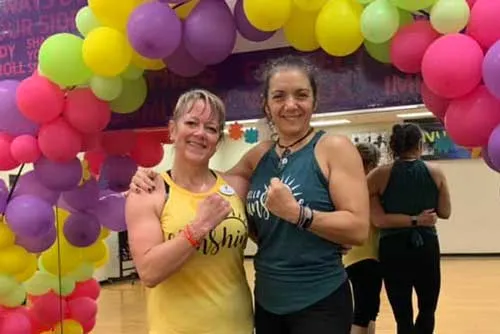 If you visited any of our YMCA Family Centers in early May, you might have noticed a bit of added excitement in the halls as members and instructors celebrated the Les Mills spring 2022 launch. Each season, the Y launches new choreography for Les Mills fitness classes featuring new music and exercise selections, taught by our group fitness instructors. 

Group exercise classes are a great way to work out, try something new and make new friends. As part of the Y's commitment to a healthy lifestyle for all, each class is designed with modifications for any fitness level. Our instructors offer adaptations for each move or exercise, giving participants options for intensity and low or high impact. Beginners and athletes can enjoy a challenging group exercise class, tailored for their fitness level. 

"Everyone starts somewhere," shares Cindy Borukin, Group Fitness Instructor at the Campo Family YMCA. 

Cindy has taught Les Mills BodyPump and BodyCombat classes for the last three years and makes it her mission to ensure each participant feels comfortable, confident and prepared for her class.

In addition to the move and exercise modifications, the Y offers a variety of classes based on one's interests, type of exercise and targeted muscle group. Classes include: 
BodyBalance for mind and body connection (based on yoga)

BodyPump for strength training 

BodyCombat for cardio similar to kickboxing 

CXWorX for core strength

BodyAttack for strength and endurance 

BodyStep for cardio 
Cindy shares, "getting in the door is always half of the battle, but once you walk through the door, you are greeted by welcoming instructors and participants and will have a great physical and mental workout." 

The Tampa Y serves as a community leader in health and wellness by helping families understand the importance of physical activity and a balanced diet through various programs. 

Learn more about group exercise classes or check out the group exercise schedule to find a class at your Y!