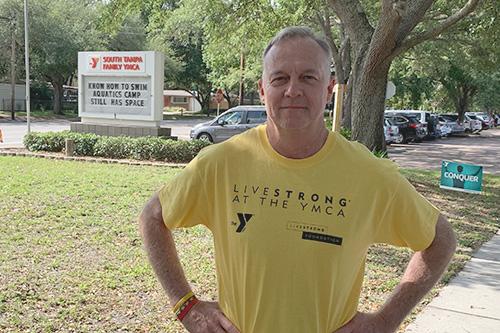 If you live in or drive through South Tampa, you may spot Gary Tilson walking to the Y. "I'm proud of this," as he shows off his bright yellow LIVESTRONG® at the YMCA shirt.
Gary was diagnosed with Stage 4 melanoma with metastasis to the brain three years ago. Before he received the devastating news, Gary described himself as a healthy person. He had a job, rode a motorcycle and traveled.
Then his life changed. "It happened overnight," he says. After numerous brain surgeries, losing the ability to talk and walk and spending more than a year on a feeding tube, Gary wanted to gain his strength back.
Gary joined the 3-month cancer survivor program at the South Tampa Family YMCA at the recommendation of his dietitian at the Moffitt Cancer Center. That's where he met certified LIVESTRONG coach Mo Chiodini. "I needed someone to kick my butt. I mean that in a very positive way. That's what I needed," he says. "Mo's my friend now."
"LIVESTRONG coach, friend, workout buddy - whatever you want to call her," says Gary's fiancé, Bonnie Kirby. "That was the godsend. That's what changed him."
Since the program, Gary has walked at his son's wedding, learned to do 20 pull-ups, improved all of his pretest results and even ridden a bike. He still can't drive because he does not have all of the feeling in his right foot. "I parked my car at the hospital and haven't driven since," he jokes. But he's determined that will change.
"I will drive again - that's going to happen," he says.
Gary's family is what keeps him going. While scrolling through his cell photos of his adult sons and two granddaughters, he says, "I fight for us. I can deal with the pain. But I fight for all of them. It's harder on (Bonnie) and everybody else involved."
Thanks to the generosity of donors, the 12-week LIVESTRONG at the YMCA program is offered at 10 Tampa Y locations at no cost to cancer survivors and their families. Certified cancer wellness coaches offer support, guidance, personal training and social activities for patients before, during and after cancer treatment.
"Literally, this has changed my life," he says. "It has brought me out. It's made my life better." Best of all, Gary isn't on any current medication. "I had a nightstand covered with pills," he said. "It is very dramatic to see how upbeat and positive he is about everything," Bonnie says, "…because when you hear the word 'cancer' people would first burst into tears."
When people tell Gary he looks great, he keeps his sense of humor. "I either look great because I really look good or I'm not dead," Gary jokes. His goals now:
"I want my independence back. To grab parts of my life back," he says. His new motto: "One life - live it."
Click here to learn more about the LIVESTRONG program at 

your local Y

.
---
Pictured above: Gary Tilson is a LIVESTRONG graduate from the South Tampa Y.