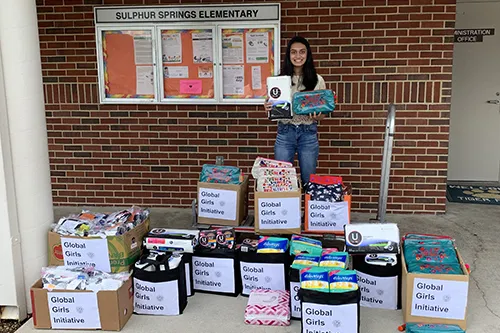 Aanya Patel is helping Sulphur Springs YMCA afterschoolers through her nonprofit, Global Girls Initiative.

As a high school student, Aanya Patel wasn't old enough to officially start a nonprofit but she's running it, with her mother as president. After participating in a global virtual forum about hygiene poverty, Aanya was determined to end "period poverty" so she founded Global Girls Initiative. 

Last month, Aanya teamed up with United Way Suncoast and stopped by Sulphur Springs K-8 Community School to deliver female hygiene products to girls in need. She raises the funds to buy the products from community partners and online

"In the U.S. I found out that one in five girls lack access to menstrual hygiene products and girls are even missing school because of this," says Aanya, who started the initiative during the pandemic. "I hope the girls that I give these products to are able to gain a new sense of confidence and self-esteem."

"This is hugely beneficial as a community partnership school. We provide wraparound services to students that include education and wellness and we've seen access to hygiene products and hygiene education is something that we've been lacking," says Meagan Smithyman, Community School Director/Tampa YMCA Associate Executive Director. "We have a handful of girls that every month come to us indicating it's that time of the month for them and that they need the products. This will just help more students feel comfortable, be prepared, be ready to go to class and be successful."  

So far, Aayna's local nonprofit has impacted more than 10,000 girls and women with more than 50,000 period products donated. 

"As a K-8 school, we serve students up to 8th grade so 14, 15 years old. In some instances, we probably have some girls as young as third grade that are getting their period so we utilize these products. Right now, we are looking to serve 5-8th grade specifically. That's almost 90 female students in our school that will benefit just from this one initiative," Meagan says. "I'm truly amazed by Aanya. I cannot even believe a girl her age would have the wherewithal to collect these items and then feel comfortable sharing it. I'm just really impressed by the young woman that she is." 

Sulphur Springs K-8 Community School students have the opportunity to enroll in the site-based YMCA program where afterschool extracurricular activities and focused tutoring sessions are provided. Together, the YMCA and the school sponsor parent involvement and community events throughout the year.

If you'd like to get involved, visit Global Girls Initiative's website.