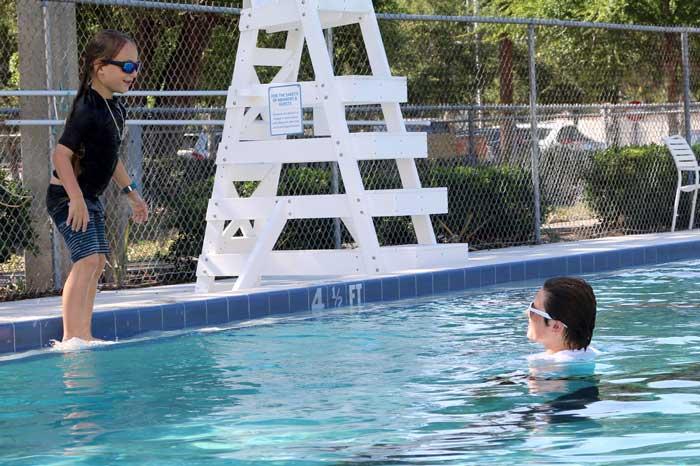 Simon jumps into the Central City pool with swim Coach Liv. 
For many children with diverse abilities, the dream of swimming is just that – a dream. However, an innovative partnership with the Children's Board of Hillsborough County allows the Tampa Y to make these children's dreams a reality. 
For about a decade, the Tampa Metropolitan Area YMCA's Mobile Swim and Education program has offered children ages 3-14 with diverse abilities the opportunity to swim and enjoy the water at no cost. 
Our nationally certified swim instructors provide five 30-minute private swim lessons tailored to meet the needs of each individual child. These lessons instill basic water safety and swimming techniques. Children become comfortable and confident swimmers through practicing safe water habits, engaging in underwater exploration, and learning how to swim to safety if they fall into a body of water.
For 6-year-old Simon and his family, this experience has been life-changing. Simon was born three months early and has difficulty hearing, which has prevented him from being able to participate in traditional swim lessons. The Y's Mobile Swim and Education program allows Simon to spend time one-on-one with a swim instructor who teaches him basic water safety and swim techniques while having fun and building confidence! 
Leann, Simon's mom, shared, [Coach] Liv has been amazing. In the two lessons she's had with Simon, she was able to get [Simon] to float on his back…something we have been trying to get him to do for two years. Having an opportunity to work one-on-one with an instructor has made all the difference. I am so appreciative Simon has been afforded this opportunity!"

If you, or someone you know, has a child with diverse abilities and is interested in the Tampa Y Mobile Swim program, learn more or register for lessons.