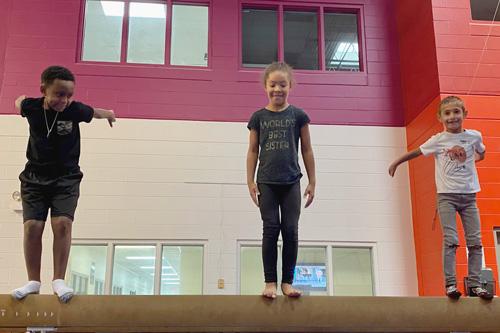 CJ, Kaiya and Elijah formed a tight bond after meeting at the Y's Youth Relief Care and spending time together at summer day camp. 

Michele Stockton, who works full-time as a hospital administrator, didn't know her son made such good friends at the Y's Youth Relief Care for essential workers until it was ending. 

"I saw him during the day being all sad and I asked him, 'What's going on bud?' and he was just like, 'nothing.' He kind of just stood there and then the tears started pouring down," says Michele. 

Her son, Elijah, 8, CJ, 7, and Kaiya, 8, were all signed up together during Youth Relief Care at the North Brandon Family YMCA in March and then all three kids transitioned into the same summer camp in June. 

"They were distraught (on the last day)," says CJ's mom, Karen Lopez-Patrick, who works full-time at a rehab facility. "They were crying all day. I was like, 'What is wrong? What is going on?' I thought he had gotten hurt because he came out to the car crying." 

"From day one these three had a special bond. They were always hanging out, laughing together and helping each other out. The day it was supposed to be Elijah's last day, CJ and Kaiya were super upset and cried most of the day. It was so sweet," says Tracy Fryer, North Brandon Family YMCA Camp Director.  

All the moms appreciated the Y providing a safe place to send their children while they had to work when schools were closed. "I don't know what I would've done, honestly," says Karen. "I just knew it was a better environment for him to be with his own age group. I loved the staff there. CJ learned a lot. He thinks he's like (Olympian) Michael Phelps now. He loves the pool. And the socialization part. Meeting kids outside of his school." 

"I was thankful (the Y) had an opening for Youth Relief Care because that helped me tremendously," Michele says. "A lot of people are asking me 'are you going to send your kids back (to school)? I'm like, 'yeah they're going back to school.' I work. I don't have anyone to do the online learning. They're still young and they've been going to the YMCA. They've been washing their hands. They've been staying their 6 feet social distancing and doing what they're doing and they've been fine ever since and they've been going for six months now.'"

It's hard to make new friends, especially during a pandemic.

"(The moms) exchanged numbers and they've been talking through the phone and playing Fortnite together," says Michele. But a future in-person playdate is in the works. "He's begging me – can I go to his house this Sunday?"

Although both programs have concluded, the relationships made at the Y can last a lifetime. Remember, the Tampa YMCA offers Kids' Day Out holiday day camp during no school days.