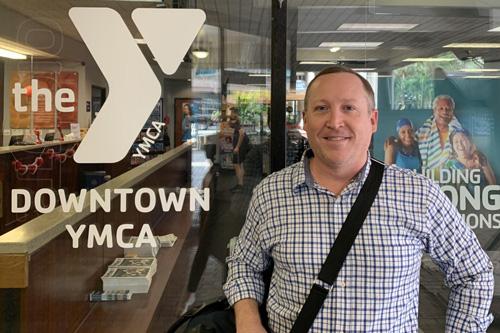 Shawn Clymer, now working from home due to COVID-19, plans to resume his lunch break workouts at the Downtown Y when he returns to his office. 

There's a hidden gem located in the heart of downtown Tampa. "The convenience factor was very high for me," says Shawn Clymer, and there's a "different vibe at the downtown location." Shawn used to work out at the Downtown YMCA on his lunch breaks a few times a week before COVID-19 changed his routine when he started working from home. He currently works out at the West Park Village Y closer to home but plans to resume his normal weekly schedule when he returns to his office.  

"I found it benefited not just how I felt and the way I looked but it gave me more energy to go back to work to be more productive," Shawn says. "It's a really nice energizing way in the afternoon when you're about to hit that lull. And everybody else drinks coffee and I don't drink coffee."

Located on South Franklin Street, the Downtown Y is only a five-minute walk from Shawn's workplace. He says he joined at first because the membership was offered for free through Y Corporate Membership and if he didn't use it, he'd lose it. "It was a motivating factor that became a very good habit." 

Shawn's lost 25 pounds since joining nearly two years ago. "That was a very noticeable difference just being in better shape overall and feeling a lot healthier," says Shawn. "I couldn't imagine not working out anymore just because I would feel terrible all the time, like unhealthy, which would not be a fun way to live." 

Shawn used to think the Y was just for kids and older people, but now he enjoys the variety of equipment and the supportive environment. His workouts include the recline bike "because it allows me to read my book much more easily and then do any given muscle group of the day." He keeps his workouts light "because I'm 40 now and my joints can't take heavy lifting anymore. Then I also use the aerobic area for stretching. That's why I like this Y so much because it has everything I can use in succession."

Shawn describes his former bigger gyms as a "barrage of a lot of equipment" where he felt intimidated and didn't like the smaller gyms at apartments "that had two bikes and an everything machine." 

"This is a perfect blend of those two that give me a good vibe where I can do whatever I want. I don't have pressure and nobody looks at what I'm picking up. It doesn't matter if I have 25 pounders instead of 50 pounders. There's still a lot here that I don't even use because it's got everything," he says.

The Y is currently offering a $0 join fee and when you join the Y, you'll see as a top-rated 4-star charity, we offer so much more than a typical gym. At the Y, you're not just a member—you're part of a community. In these difficult times, the Y has pivoted in response to community needs, finding ways to use our resources to offer solutions to social voids and help our neighbors. We invite you to watch our impact during this pandemic.