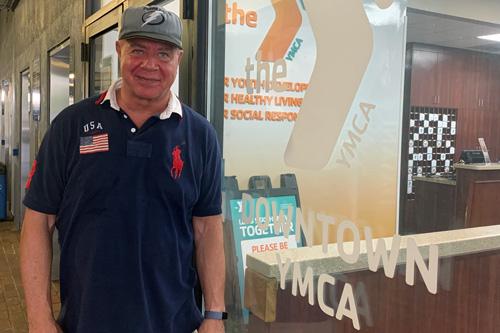 Calling himself a huge Y fan, Arlie DuBois reminisces about his time working at the Y as a camp counselor when he was a teenager.

Arlie DuBois is nostalgic about his days working with kids at his first job as a camp counselor at a Y in the early '80s in Raleigh, NC.

 "I have three buddies that I've had 40-year relationships with that we were YMCA counselors together. That's where we met. And we're still on a group chat. I see them once a year," he says. "I went to Dallas two months ago and met up with two of the guys that had been my buddies since then, at one of his houses (we sat) in the hot tub and just talked about the Y and stories from the Y. That's how much it meant to all of us." 

Arlie says his job didn't feel like work. "I got to see all my friends, cool kids, swim, have fun, it was like the highlight of the day."  

"On payday the counselors would line up and they would bring all the kids into the auditorium. They'd say, 'Arlie, come get your Good Sport Award' and you'd run up and the kids would cheer and go crazy. That's how you got your paycheck," he says. "So, through my life, being in business, when I gave out paychecks I would say, 'here's your Good Sport Award.' So, the Y has always stuck with me." 

After raising his own kids, Arlie now lives downtown and hops on a scooter to ride to the Downtown Tampa Y, a wellness center serving the central business district of Tampa. He particularly likes the sauna, atmosphere, friendly staff and members. 

Saying he can find gym equipment anywhere, including his own apartment building, he stresses the Y isn't just a gym to him. 

Arlie remembers the children they called the "Y kids," who couldn't afford summer camp but were able to participate because of the Y's financial assistance program. He remembers one story in particular that he can laugh about now. 

"I told (the Y kids) if they were good I'd dunk a basketball. So, the last day of camp they all lined up and I put a mini trampoline at the foul line and I jumped too high so when I hit the rim, I grabbed it but my feet swung up and I fell backwards and I broke both my arms," he laughs, saying he did keep his promise.

"As an adult I've always carried those memories with me and the friendships that I've made and all the things that we were taught as counselors," Arlie says. "We had a really great youth director and he spent a lot of time mentoring us. The Y was always so kind and dedicated. The YMCA is a really special place for me." 

(Tampa Y members have unlimited access to all 10 family centers, three wellness centers and exclusive access to youth and family programs at YMCA Camp Cristina and the Bob Sierra Youth and Family Center. Each family center has a pool and some locations feature multiple pools. All locations have new wellness equipment and a helpful, supportive team. Check out a Tampa Y location near you today!)

YMCAs are charitable organizations that serve people of all ages, backgrounds, abilities and incomes. The YMCA is community-based and believes that its programs and services should be available to everyone. Learn more about the Y's Open Doors program.