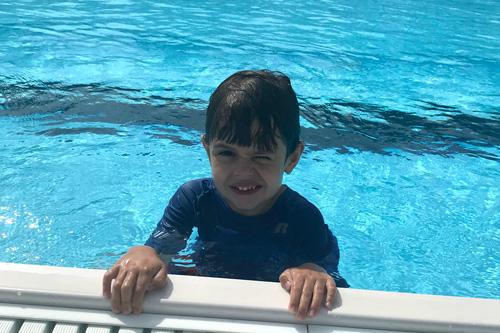 Blake Stuart learned to swim at the Campo Family YMCA. 

Bob Stuart will never forget the day his 6-year-old grandson learned how to swim.

"It'll be a moment I'll never forget—and the fact that Blake had to trust the instructor other than someone in the family was a really big moment. I let the instructors know that I will never forget it because when I see them I'll remind them about the day Blake learned to swim," says Bob.

Blake got his feet wet in the Y's Safety Around Water program and then attended official swim lessons at the Campo Family YMCA.

"The Safety Around Water program, funded by the Florida Blue Foundation, is a great option for families to enroll their non-swimmer or beginner swimmer in a program that will focus directly on life-saving skills," explains Amanda Walker, Tampa Y's Aquatics Executive. 

During the free four-day program, participants learn key skills which are essential to helping a swimmer if they were to find themselves in water where they were unable to touch the bottom. 

"The program is awesome. Blake came here not knowing how to swim. And after two classes he went through the beginner class and then the next level up and Blake now can swim," says Bob. "We don't have a pool but a lot of his friends and family have pools. I feel confident now that if something were to happen, he'd make it to the wall and that's all I care about." 

Bob hopes to continue Blake in swim lessons. "It's a process and we're in it for the long haul," he says. "I've told everybody that I can talk to that Blake learned how to swim here. We tell people if you want your children to learn how to swim come to the Y and they ask me if I work for the Y and I say, 'no,' but it's just a great place," he says.

In 2020, across the Tampa Y association, "We provided the Safety Around Water program to 783 children in our March session prior to the start of COVID-19. In our August session, we had 499 participants enrolled. Total served for this year is 1,282," says Amanda. Future lessons will be hosted by other participating Ys in the collaborative effort including YMCA of the Suncoast, YMCA of Greater St. Petersburg, Manatee YMCA and SKY Family Y.

At the Y, we teach youth, teens and adults to swim, so they can stay safe around water and learn the skills they need to make swimming a lifelong pursuit for staying healthy. Families can sign up for swim lessons at any family center all year long.