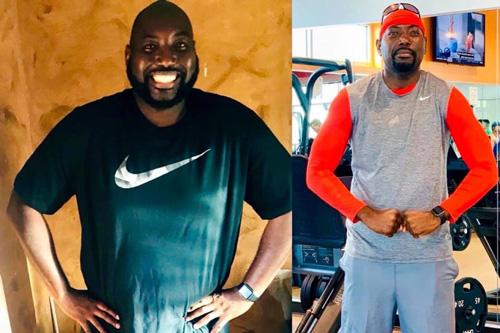 At 6'5, Lawrence Thomas is hard to miss. These days, he's a lean, mean, fighting machine. But he says he used to resemble a NFL offensive lineman, weighing 370 pounds.
Lawrence says he was a fairly athletic person his whole life until he started packing on the pounds about 10 years ago. "Every year in December or January I would set a goal to live a better lifestyle and every year after a month I would just quit," he recalls.
But the year 2019 was different. "I took a long look at the past few years in my life and then started thinking about the future. I started thinking about my wife and children," he says. "I want to make sure I'm around to see them grow up. I also wanted a better quality of life for myself and family."
So last January, Lawrence joined the Spurlino Family YMCA at Big Bend Road. "When he first signed up and started coming he used to wear a hoodie every day," says Senior Wellness Director Josh Sandoval. Lawrence explains he was slightly embarrassed by his weight and lacked confidence.
Josh says one day a staff member didn't recognize Lawrence. "He was a completely transformed person. He used to walk in with his head low and not talk to anyone. Now he walks in shoulders back, ready to get his workout in every day. He's truly an inspiration," Says Josh.
Lawrence explains why he joined the Y and not another gym. "The YMCA is the only one that puts family and community first. It's the only gym I have been where everyone is helpful and caring. However, they will still push you to your maximum potential which I love."
His family benefits too! "My wife and son love it. The Y even gives me and my wife a chance to get away for a date night with Parent's Night Out. Another great perk are all the gym classes, which my wife loves," he says. His son's favorite thing is the pool. "Even when it's cold out."
Lawrence says once he started going to the Y he couldn't stop, working out every single day, weekends, weekdays and even on vacation. "I immediately started to feel better," he says.
No more hoodies for Lawrence, who said he upgraded his wardrobe. "I pretty much go into any store and buy what I want. I got my sexy back," laughs Lawrence.
He has this advice for anyone thinking about joining the Y. "The hard part was walking through the doors. If you make it that far you have already succeeded because the staff and community at the YMCA will not let you fail. Just a little consistency and determination can go a long way to becoming a better you for your family," he says.
And if you think you don't have time, Lawrence says, "There's time – you owe it to yourself."
Pictured above: A before and after of Lawrence Thomas, who lost more than 130 pounds after joining the Spurlino Y.