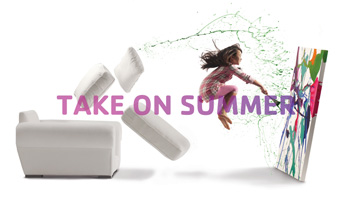 When was the last time you played water balloon archery? Or weaved your way through an inflatable obstacle course? Have you ever won a hula hoop contest? Or danced with Y Guy?
Well now you and your family can do this and more, all in one day!
Join families from Hillsborough and Pasco County for Healthy Kids Day, a fun-filled day of exciting and energizing activities, Saturday, April 28 from 10:00 am to 2:00 pm at Curtis Hixon Park!
Enjoy healthy snacks, bounce in the bounce house, play basketball with former NBA star Gary Brokaw, and see special Zumba and fitness demonstrations! Free to the public, Healthy Kids Day is a national initiative to improve the health and well-being of kids. Research shows that without access to activities that stimulate the mind and body, kids are more prone to gain weight and fall behind academically over the summer months.
"At the Tampa YMCA, we know that when the school year ends, many kids lose exposure to activities that keep them moving and learning. Healthy Kids Day will help parents begin thinking early about what their kids need to stay physically and intellectually active in the summer," said Maureen Chiodini, Associate VP of Membership and Programs. Summer is just around the corner and is an ideal time for kids to get out and grow so they are healthier and sharper when the next school year begins."
A leading nonprofit committed to strengthening community through youth development, healthy living and social responsibility, the Y holds Healthy Kids Day to teach healthy habits and inspire a lifetime love of physical activity through active play. As part of this initiative, the Y – along with hundreds of thousands of parents and kids nationwide – is taking on summer by addressing critical gaps in health and education that cause kids to be at risk for childhood obesity and suffer summer learning loss.
For further information regarding the Tampa YMCA's Healthy Kids Day visit the website at www.tampaymca.org.