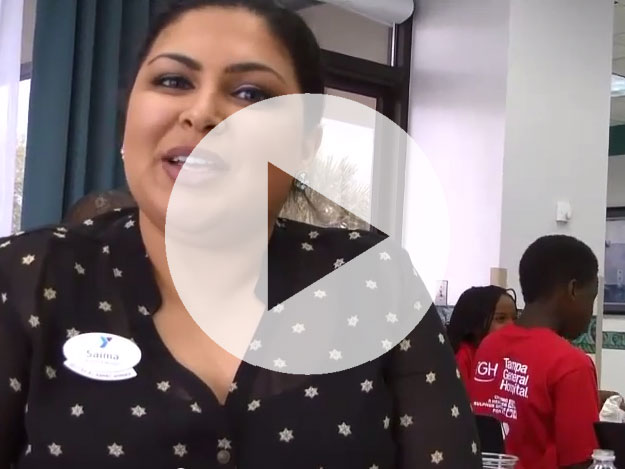 September is National Childhood Obesity Awareness Month and recent studies show Florida kids may be slimming down a little. Among Florida's low-income preschoolers, obesity rates dropped a full percentage point, from 14.1 percent in 2008 to 13.1 percent in 2011. The Centers for Disease Control credit the slight drop, at least in part, to national and local initiatives, such as "Creating a Healthier Sulphur Springs for Kids."
The initiative, funded by The Florida Blue Foundation, promotes healthier lifestyles through the Sulphur Springs Y's coordination of a team who provides direct services to the community, focusing on food and nutrition, community outreach, safety/access/community pride, healthy living and childcare.

"Obesity, particularly in areas such as Sulphur Springs, is a heightened problem," says Sulphur Springs Y Senior Program Director Saima Qadree. "It's a national epidemic, but even in particularly low-income communities, under-served populations such as the youth in Sulphur Springs, it's a very high problem, but we are here to move the needle on that. We feel having a presence and contracting grantees such as MORE HEALTH, which deliver that positive, healthy, holistic message, is critical for success."

During selected wellness weeks, Sulphur Springs Y summer campers take several field trips. "Not only is it exposure to different health fields and potential careers for them, but also an opportunity to learn about active living and healthy behaviors," says Saima. Y counselors also teach the importance of 5-2-1-Almost None, which stands for "five fruits and vegetables per day, no more than two hours of screen time, one hour of physical activity and then almost no or zero sugary beverages," explains Saima.

WUSF's Health News Florida recently featured theY's "Creating a Healthier Sulphur Springs for Kids" initiative. Click here to watch the video.