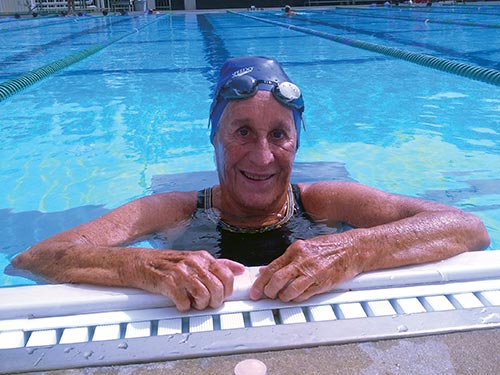 Some may call Doris Prokopi a mermaid since she spends so much time in the water. The 78-year-old swims for two hours every day at the New Tampa Family YMCA. That's dedication, considering she didn't even learn to swim until she was 59. "I really love to swim and don't know why I didn't learn sooner. Now, they can't get me out of the pool," Doris says. "I really get a rush competing against other fast swimmers."
That rush comes quite often for Doris, who has won several medals at national and international competitions such as the Pan-American Masters Swimming Championships, U.S. National Senior Games, U.S. Master Swim and the Florida Senior Games. Doris has even set numerous national and international records in her age group.
She also serves as daily motivation for her friends at the Y. "Personally, I look at Doris and I see nothing but inspiration," says New Tampa Y Associate Aquatics Director Mia Matos. "As a long-distance swimmer myself, I look up to her and hope I am still swimming at her age." Mia says athletes of all ages at the Y agree. "She probably doesn't even know it, but other members and swimmers at the New Tampa Y admire her," shares Mia. "I am often asked 'How old is that woman? She swims better than I do.' Doris is a pleasure to have at our branch and she inspires every swimmer whether they are a beginner or a professional."
Doris says the health benefits of swimming surpass all the accolades, "I would tell everyone that swimming is the best for your body. It takes all the aches away," says Doris. "My mother lived to be 100, and maybe I will still be swimming if I make it that far. Who knows?"
The Tampa Y's aquatics programs are open to everyone, regardless of age or ability. Check with your local Y's Welcome Center for more information.

Cutline: 78-year-old Doris Prokopi swims everyday at the New Tampa Y.