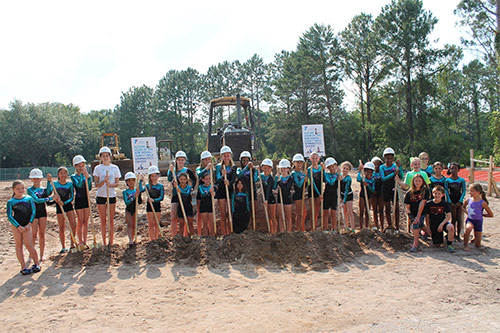 It's been a successful start to the summer for the Tampa Y! Earlier this month, we broke ground on a new gymnastics center at the Bob Sierra Youth and Family Center in Carrollwood. More than 100 guests, including Hillsborough County Commissioner Ken Hagan and other community leaders, attended the groundbreaking ceremony on June 4th.
"As a member of the Bob Sierra Y, I have the opportunity to see first-hand the incredible impact the Y has on children and families," said Commissioner Hagan. "This facility will improve the quality of life for thousands in Northwest Hillsborough and is just the latest example on how the Y is always there and responding to needs in our community."
The new 11,500-square-foot gymnastics center will provide continued opportunities for kids in the community to get active and fight the childhood obesity epidemic. It will also provide a physically and emotionally enriching environment where almost double the number of students can take advantage of our quality programs and services.
"We serve nearly 3,000 kids in our current gymnastics area," said Bob Sierra Y Capital Campaign Chair Dena Shimberg. "With the new gymnastics center, we will be able to serve over 5,000 kids, as well as a more diverse program menu to help serve children and families in our community."
The Tampa Y anticipates the $1.7 million gymnastics center to be completed later this fall. Many thanks to our passionate donors, volunteers and parents for giving more young athletes the opportunity to reach their full potential on and off the gym mats!
The groundbreaking comes just one month ahead of the 2014 YMCA National Gymnastics Championship hosted July 1st - 5th by the Tampa Metropolitan Area YMCA and the Sarasota Family Y at the Tampa Convention Center. The national event is expected to draw over 5,800 athletes, spectators and visitors to the community resulting in a $4.5 million economic impact to the Tampa Bay area. If you're interested in volunteering, attending or learning more about the 2014 YMCA National Gymnastics Championships, check out www.ymcagymnationals.org. Good luck to all of the Y competitors!
Cutline: Bob Sierra Y's Top Flight Gymnastics Team performed during the groundbreaking festivities.