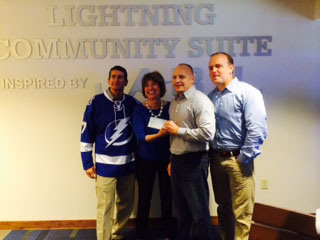 Longtime Y supporters, David and Liz Kennedy,are true community heroes. They were honored as such by the Tampa Bay Lightning during its February 8th game. The Kennedys, who received a $50,000 donation from the Lightning Foundation's Community Heroes program, donated the money to various charities, including $10,000 to the South Tampa Y's capital campaign.
We are truly blessed to be one of the Kennedy's charities of choice. For more than 40 years, the Kennedy family has consistently shown an undying commitment to give back to their community with their generous support, leadership and involvement with the Tampa Metropolitan Area YMCA. David is a longtime Governance Board member, former board chair and has been heavily involved in our capital campaign efforts for nearly thirty years; including helping build the South Tampa Y. "Actually David grew up in the Tampa Y. He learned how to swim here and has always been involved and loyal to the Y," says wife, Liz, who helped build the Y's Neighborhood of Promise in Sulphur Springs, which led to the Community Learning Center at Sulphur Springs Elementary and Layla's House, an early childhood learning center. "Her work over the last 30-40 years has been directed toward children and making the community a better place for all of them, especially those who are not as fortunate as us," shares son Jay, who along with his sisters, follows in his parents' footsteps as a leading philanthropist and volunteer in the community. Jay is currently working to secure funding for the South Tampa Y's new family aquatics complex.
Again, many thanks to the Kennedys for so generously giving their time, energy and financial support to the Y!
From L to R:Y champions, David and Liz Kennedy, Tampa Y COO Adam Klutts, South Tampa Y Capital Campaign Chair Jay Kennedy.