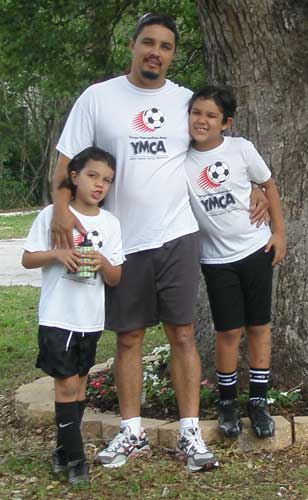 Ron Bent has been volunteering as a soccer coach for the New Tampa Family YMCA for six years. He's watched his two sons, 10-year-old Maximus and 9-year-old Briggs, grow tremendously in the program. "They're really proud of that aspect of their life. They've been on so many teams. I've been their coach. I've seen them develop in so many good ways. They can't wait to get out there and play soccer," says Ron.
Ron keeps coming back as a volunteer not only for the bonding experience with his own kids, but because he believes in what the Y stands for. "It's a nurturing, loving atmosphere where confidence can be built," claims Ron. "I see the kids smiling and laughing and they're winning and losing. It's a healthy competition."
Although he's volunteering his time and talents to the Y, Ron says what he gets in return is priceless, "For the amount of time you donate to the Y, you get back tenfold with development and relationships; teaching the kids respect for themselves and for the sport."
As important as Ron believes youth sports are to his boys, he feels the Y is an important asset for all families. He says, "The Y is amazing! Thank God for people who financially fund it and people who donate to it because it's totally an escape for so many kids in a productive way."
As a 4-star charity, the Tampa YMCA relies heavily on the support of volunteers, like Ron, to help coach youth sports, plan events, raise funds, and handle hundreds of other key responsibilities. As we look to 2014 and the challenges our communities face, it is important to start thinking about how community service not only benefits the individual who's giving back, but the community as a whole. Next week, on Martin Luther King Jr. Day of Service, Jan. 20, the Tampa YMCA encourages community members to honor Dr. King's legacy by not only giving back and supporting our neighbors, but by reflecting on how each act of community service is a small part of a larger movement to make things better.
Regardless of whether you give your time to the Y, your church or animal shelter, getting and staying involved in community service is what is important. If you're interested in volunteering with the Y, please contact your local Welcome Center.
Cutline:Ron volunteers as a soccer coach for the New Tampa Family YMCA.