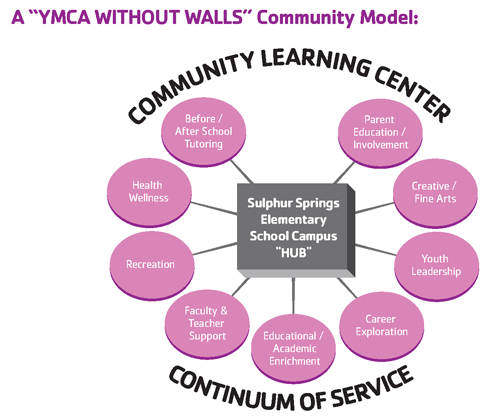 General Program Model
Education includes an infusion of YMCA programs and the Developmental Assets© philosophy within the school to boost academic achievement. After school educational opportunities will include traditional academic support and a wide array of unique opportunities that integrate core elements of education.
Youth Development includes educational enrichment, sports and recreation, youth leadership, service learning, cultural arts, and career exploration.
Parent, Family and Community Involvement includes consistent yet diverse activities to engage parent and families, which in turn will support the youth. Support for families through social service linkages is a key component.
Employability includes work readiness experiences, career exploration, concrete skill building, job preparedness, and job opportunities.
Community Building Creating safe spaces for all residents to develop concrete projects that promote community pride, safety, health and wellness. Collaborations with existing neighborhood groups are important strategies to be included as well.
(At Sulphur Springs some elements delivered through Sulphur Springs Resource Center with United Way.)***