Learning how to swim isn't just about encouraging your kids to get in the water. Learning to swim is about building skills that will help ensure their safety and encouraging a healthy activity they can participate in over a lifetime.
The Y offers group swim lessons from ages 6 months to adult. Children under the age of 3 participate in lessons with a parent. We offer a pre-school program and a school-age program, both with a variety of levels to provide your child with age appropriate skill development at their own pace.
Safe Swimming Saves Lives
All lessons incorporate stroke development, water safety skills, and other aquatic activities such as water polo and synchronized swimming experiences. The Y also offers private lessons, developmental swim league and competitive swim league, as well as synchronized swimming at some locations.
> Register on-line for swim lessons at the Y.

Saving Lives One Lesson at a Time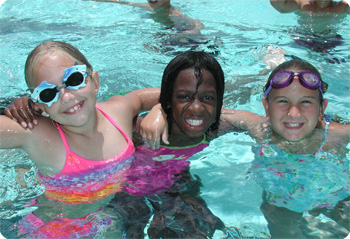 The Tampa YMCA is committed to reducing the number of accidental drownings in our communities. We feel it's our responsibility to increase awareness of the risks and preventative measures associated with pools and water recreation. Did you know that our state experiences double the national average when it comes to the number of children under the age of 5 who drown?
Since most of these drownings happen in residential swimming pools, it is vital that parents and other adults in our community adopt and practice as many water safety steps as possible. You can never know which safety measure will save a life – until it does.
> Download the full flyer of information
Play Interactive Water Safety games
Pool Safety Videos