Year of Hard Work Pays off for Teen Judo Star
Sarah Subko started taking judo at the Brandon Family YMCA at the age of 5. Today, the 14 year old purple belt is ranked No. 1 in the United States for her age group and weight, and is planning to attend the Pan-American Infantile Games later this year.
Most 14 year olds have a hard time planning what to wear to school. But Sarah has been planning this trip for a little more than a year. After losing a match that would've resulted in her receiving an invitation to last year's Pan-American games, she was determined to represent the United States this year.
"This was her plan all year," said Sarah's mother, Natasha. "I told her that it was going to be difficult, that'd she'd have to stay at her weight class all year, win her matches and score the most points, but she said, 'I can do this, mommy.'"
Read more...
Summer Camp – More Than A Good Time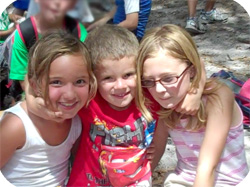 Drake enters his grandmother's car each afternoon dirty and sweaty. His hands quickly sign his request, "Again tomorrow?" When she signs back, "Yes!" he squeals in delight and high-fives her.
Drake is just one of the nearly 400 kids attending Camp Cristina each week this summer. But Drake is a bit different from the other campers – he can't hear because he was born deaf. Of course, that hasn't stopped him from making friends and summertime memories that will last him a lifetime. In fact, Drake's enjoyed being a part of the Y gang so much he makes his grandmother wash his Y camp shirt every night so he can wear it again the next day.
Read more...
<< Start < Prev 31 32 33 34

35

36 37 38 39 40 Next > End >>


Page 35 of 48