Camp Counselors Don't Just Watch Kids at Camp – They're Sending Them to Camp
Christy Lowe at the Campo Family YMCA knows the power of storytelling. But even she was amazed when a group of 28 Campo teens raised more than $6,000 to send kids to camp.
"This year, we decided to take a different approach with the camp staff trainings," Christy said. "We began each camp training session with a 'Mission Moment' so that our camp counselors could hear how the Y changes lives. Our veteran staff members shared many stories of past summer experiences at the Y."
It was Christy's story, though, that pushed the teens to take action.
Read more...
Tampa Y Providing Kids With Success Tools for School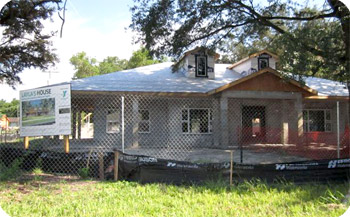 Summer is almost over and families with school-aged children are preparing for the new school year. But some parents can't afford the basic tools their kids need to start out the school year right.
That's why the Tampa Y hosted a Back to School Supply Drive this month. Y members and nonmembers were encouraged to bring in school supplies to any Tampa Y. As extra incentive for non-Y members to become involved in our efforts, the Y offered to waive join fees for those nonmembers who brought in school supplies.
Additionally, the Brandon Area Ys held a Back to School Backpack event on Aug. 13 at Camp Cristina. Participating Y members provided a $35 donation, which was then converted into a backpack filled with school supplies. In its 10th year, the Y's backpack event provided about 1,400 students in grades K-12 with backpacks filled with school supplies. The students represented more than 23 Hillsborough County schools, and also included any children of Y members who receive financial aid of more than 60 percent at the Brandon Family YMCA, Campo Family YMCA, FishHawk Ranch YMCA Express and Camp Cristina. Other event sponsors included the Emergency Care Help Organization (ECHO) and Metropolitan Ministries.
<< Start < Prev 31 32 33

34

35 36 37 38 39 40 Next > End >>


Page 34 of 48