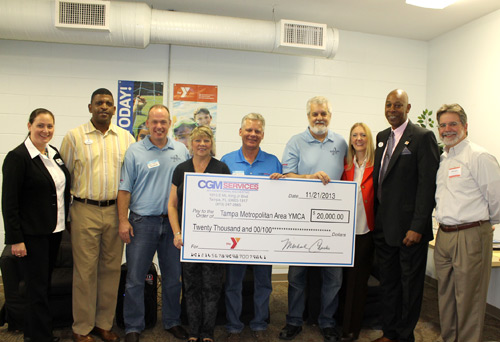 Two years ago, Adrienne Holland transferred to Blake High School from Orlando. Along with all the typical obstacles facing any new student, Adrienne had an extra challenge: the FCAT. "I was in a reading class because I had trouble passing the FCAT since fifth grade," shares Adrienne. "We took the FCAT last October and I still didn't pass it by three points so I was wondering what I was doing wrong." That's what convinced her to join the Teen Achievers program at the Bob Gilbertson Central City Family YMCA. "I started coming in January and I come every day and we took the FCAT again in April and I finally passed it," exclaims Adrienne.
Today, as an 18-year-old senior, Adrienne has grown in more ways than one. "Now I am doing much better. I am number three in my class. I feel passing the FCAT helped me." Adrienne credits the welcoming environment of Y Teen Achievers. "I was with more people who had the same problem that I had. We could relate to each other and go through different problems together. Everybody was a family. Everybody worked together." She also felt motivated to succeed. "It made me work hard. I felt like I could finally do something," says Adrienne.
Y Teen Achievers would not be possible without generous donors like CGM Services, which presented the Central City Y with a $20,000 check last month. Everest University also donated $15,000 to Central City and CSX Transportation generously gave $11,000 to the campaign.
Many thanks to CGM Services, Everest University and CSX Transportation for their continued support of the Tampa Y and its Teen Achievers program. For more information about the Teen Achievers Program, contact Program Director Wayne Johnson or 813-229-9622.
Cutline:The team at CGM Services presented a $20,000 check to the Central City Y for its Teen Achievers program.