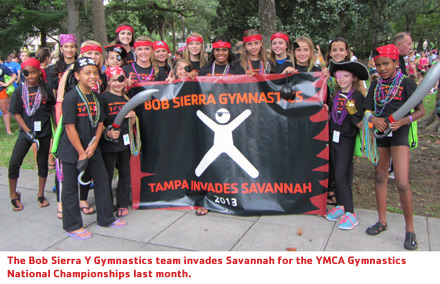 It's an event Y gymnasts prepare for year-round and come this time next year, about 2,000 of them from across the country, along with their families, will be right here in Tampa Bay. That's because the Tampa Y and Sarasota Y have been selected to host the 2014 YMCA Gymnastics National Championships.
The four-day event is expected to bring an estimated $4.5 million to the local community. Following an Olympic-style opening ceremony on July 2, 2014, the gymnasts will compete inside the Tampa Convention Center for three days.
"Our community has a strong affinity for staging premier youth and amateur gymnastics events and to be able to host a special event of this caliber is going to continue to enhance our gymnastics tradition," says Rob Higgins, executive director of Tampa Bay Sports Commission. "In partnering with the Tampa Metropolitan Area YMCA and the Sarasota Family YMCA, we're confident in our ability to deliver a first-class National Championship, thus creating incredible experiences and memories for all YMCA participants and their families."
This is by far the largest meet of the season. In fact, 20 Bob Sierra Y gymnasts experienced it first-hand at this year's Y Nationals in Savannah. We're very proud to report Kendal Sandusky placed first in Level 5 Vault, second in Bars and second in All-Around. Tiffany Faulkner placed second in Level 7 All-Around. Julian Price placed third in Level 6 Vault and in her Floor routine. Layla Flemming placed third in Level 4 Vault, Mackenzie Wiggins placed third in Level 5 Vault, Jazmin Sobotker placed third in Level 7 Vault and Lisa Cochran placed third in her Excel Platinum Floor routine. In addition, Emma Barton placed 4th in Level 6 Vault, Raven Pascua placed 4th in Level 3 Vault, Hanna Barton placed 4th in her Level 7 Floor routine, and Alison Osborne placed 4th in Excel Platinum Beam.
Great job to all our gymnasts! Let's make the Y proud again when we host the national event in our own hometown next summer. If you're interested in volunteering for the event, please contact Kirsten Barton at This email address is being protected from spambots. You need JavaScript enabled to view it. or 813-962-3220.
PHOTO CAPTION: The Bob Sierra Y Gymnastics team invades Savannah for the YMCA Gymnastics National Championships last month.